5 Things I Learned From "The Diary Of A Young Girl" by Anne Frank
In 1942 when Nazis occupied Holland, a thirteen-year-old girl Anne Frank along with her family went into hiding and lived cloistered in the "Secret Annex" of an old office building with Van Daan family to their company. The diary of a young girl is a collection of Anne Frank's daily thoughts that she wrote in the form of letters to her diary - "Kitty". Anne Frank vividly expressed her daily life in the attic with seven other people. From quarrels to laughter, from books to radio, and how she hides the pain and tears and anger behind her always-smiling, all-knowing face and living under the ever-present threat of getting caught and of death, she wrote about each and every thing gallantly. It's a heartbreaking story of a young girl who bravely survived 2 years in the hiding before someone betrayed the her and her family and gave their whereabouts to the Gestapo.
I just completed this book yesterday and I feel so good that I did. It was on my reading list for a long time and now I finally read it in the quarantine period. And this is the most relatable book in the current time and the best book that I've read in the quarantine period. By that, I don't by any means want to compare the current situation of the world with that of the second world war's time but the quarantine period has got us locked down in our homes and we don't know when it's going to end.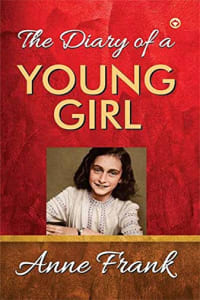 The way Anne Frank, who didn't want to be treated as a girl-like-all other, but Anne-on-her-own-merit handles the changes that happen around her and also within her body is an inspiring story and there are many more things that we can learn from this book that could be of use in this quarantine period. The way she writes about her loneliness in her Dear Diary - Kitty, even though she has lovely and supporting parents who have spoiled her with their love and pampering and the way she doesn't hesitate to stand up for herself and not only others' but the way she addressed her flaws and faults is a great lesson, one can learn from this book.
---
Here are some of the my favorite quotes from the book and what we can learn from them in this quarantine period.
"If we can save someone, then everything else is of secondary importance."
Anne Frank loved her father, Otto Frank more than anyone. He always stood by her in her decisions and supported her and spoiled her with his love and also he taught her many things, this quote is one of them. This teaching from Anne's father to her is probably the most important lesson that we should learn as the entire world is going through a lot of problems and pain and negativity. Helping each other is the only thing that we can do right now. Together, we can fight with this invisible enemy and win and get back to the normal routine of life.
"I don't think of all the misery, but of the beauty that still remains."
Anne Frank had to go through things that we can't even imagine to be in and yet she didn't get sad because of it all but on the contradiction, she thought about nature, about Peter, about what she will do 'When the war gets over' . With all the surrounding negativity, it is very natural to get depressed but we shouldn't be thinking about the misery but we should try to think of good things. You may be locked down for months and it's hard for you, me, and everyone to get stuck in our homes, but we should look at the brighter side, too. When was the last time, we spend so much time with our family or with ourselves. This may be a time we do something that we always wanted to but didn't have time for. We should think of this as an opportunity to change our life for the betterment.
"Where there's hope, there's life. It fills us with fresh courage and makes us strong again."
We shouldn't lose hope. Hope is all that we've got now and we can't afford to lose that. Let's hope this night of the misery will go soon and the bright days will return. Let's hope we lose no more lives of our fellows who are suffering from the corona-virus or any other diseases. Hope can set us free, but fear can hold us, prisoner. The way Anne and her family don't lose hope even when they face hunger, boredom, the ever-present threat of discovery and death, it's very inspiring to see them not losing it at all. Yes, they've had quarrels, they tired of looking at the same face all day for over two years but they still didn't lose hope. And that's what we should also do, not lose hope! 😇
"A person who's happy will make others happy. A person who has courage and faith will never perish in misery."
Be Happy. It's very important to be happy.The people hiding in "Secret Annex" never missed a chance to do something that will bring joy and make them happy. They celebrated birthdays, they made jokes, they shared food and books and their stories from before the hiding. Some way or another, they managed to bring smile on each other's faces. Being sad will only bring more negative thought and more miser. This is the time when we should find the happiness in all the little things possible and spread happiness to others,too. Let it be a small message to your loved ones asking about their health or it may be a funny video or a happy book that you read and recommend others to read,too. You are brave and you should believe in yourself. Let's spread smiles and not corona-virus! 😉😉
"I trust to luck and do nothing but work, hoping that all will end well."
This is my favorite quote from the book.Anne, Margot and Peter don't let their situation affect their learning and they read books and learn new languages. Not only them but their parents,too. And that's what we should do, we shouldn't make the lock down an excuse to not work or learn but we should take it as an opportunity to do things that we couldn't do because we didn't have enough time from our routine. We should do what's in our hand and what's in our control, which is nothing but our work, and that's what we should do. We don't know when and how this pandemic is going to end and we can't do anything in that matter but what we can do is our work. 💪
---
Anne Frank taught all of us many many things through her diary. Her braveness, wittiness and maturity to handle the tough times at such a small age is commendable. I recommend this book to everyone, especially now than ever. You can buy this book on kindle here:
Thank You For Reading! HappyQuarantine🤗